ICF Reinforcement
Plain or Reinforced concrete?
Plain concrete ICF walls do not require reinforcement and can only carry the same loading as a brick wall.
Reinforced ICF walls can resist bending loads just like reinforced concrete beams and so can carry a wide variety of loading and are designed to the same Codes of Practice .
The Polysteel BBA Certificate states that its system is suitable for buildings up to 18m high. Indeed when the system is just replacing cavity walls reinforcement is not required but the building will normally need a structural frame.
On the other hand, reinforcement is required when the structural designer is taking advantage of the unique structural qualities of ICF to resist wind and other loading.
For instance, industrial and agricultural buildings normally incorporate structural steel portal frames just to resist wind loading. However, if the walls were built up to the eaves with reinforced concrete ICF the complexity and cost of structural frames are entirely avoided.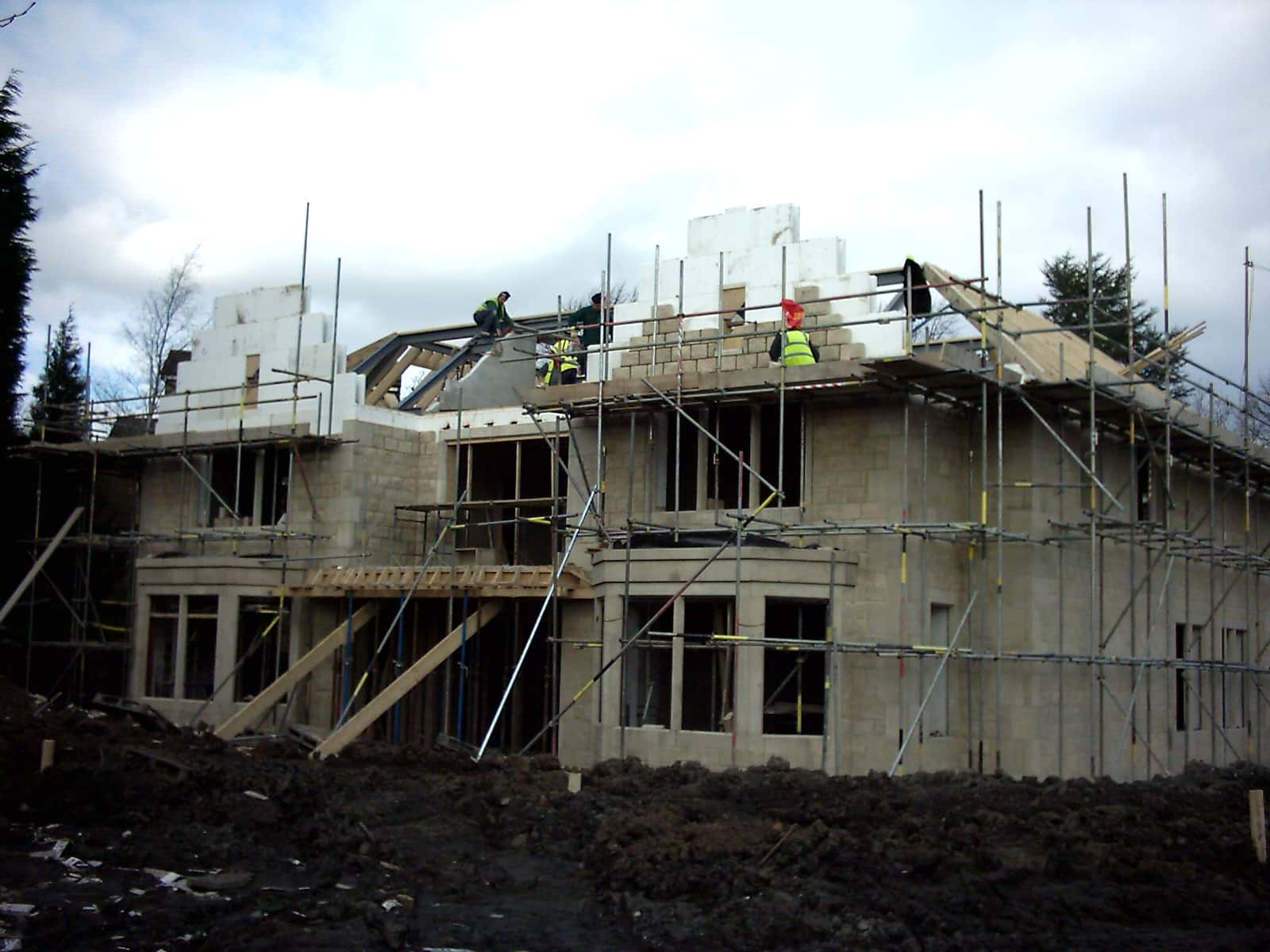 Using Insulated Concrete Forms for your project will reduce construction time significantly. Indeed, Polybloks can be delivered on site within a week or so of the order being placed. And the walls can be completed up to eaves level in 3 – 4 weeks using semi-skilled labour.
Traditional construction methods are taking a lot longer than ICF projects at the moment. For instance, it can currently take builders about 3 months to specify, get quotes, order and get the kit for a timber framed house. For cavity wall construction, bricklayers are becoming hard to find and very costly to employ.
Quality Without Skilled Labour
Render Is Preferable
If the building is rendered or finished with timber or composite paneling skilled labour is not necessary. However, it will be required for a brick skin or facing of imitation brick with slips.
Polyblok380 will Provide High Quality Retaining Walls using existing staff
The main advantage of Polybloks is that the Polyblok380 units can be used in retaining walls up to 3m high when provided with the necessary reinforcing bars. This provides the builder with the capacity to build high quality basement walls that will be very resistant to leakage – without skilled labour. The alternative precast concrete systems cost an exorbitant amount and take several months to deliver.

Where ground water may be present, we can provide solutions that will ensure the basement is never flooded – at an economic cost.