Frequently Asked Questions
Updated March 2023
Yes. ICF homes may cost a bit more, but you'll end up with a much stronger structure that costs substantially less to operate. ICF homes are so energy-efficient that the capital and running costs of both heating and air-conditioning is substantially reduced.
Insulated Concrete Formwork (ICF) costs between £60 and £70 /m2.
The costs per m2 are shown in the table below (dated January 2022).
ICF finished with brick slips will cost about the same as bricks but ICF finished with render is a lot cheaper and will take a lot less time.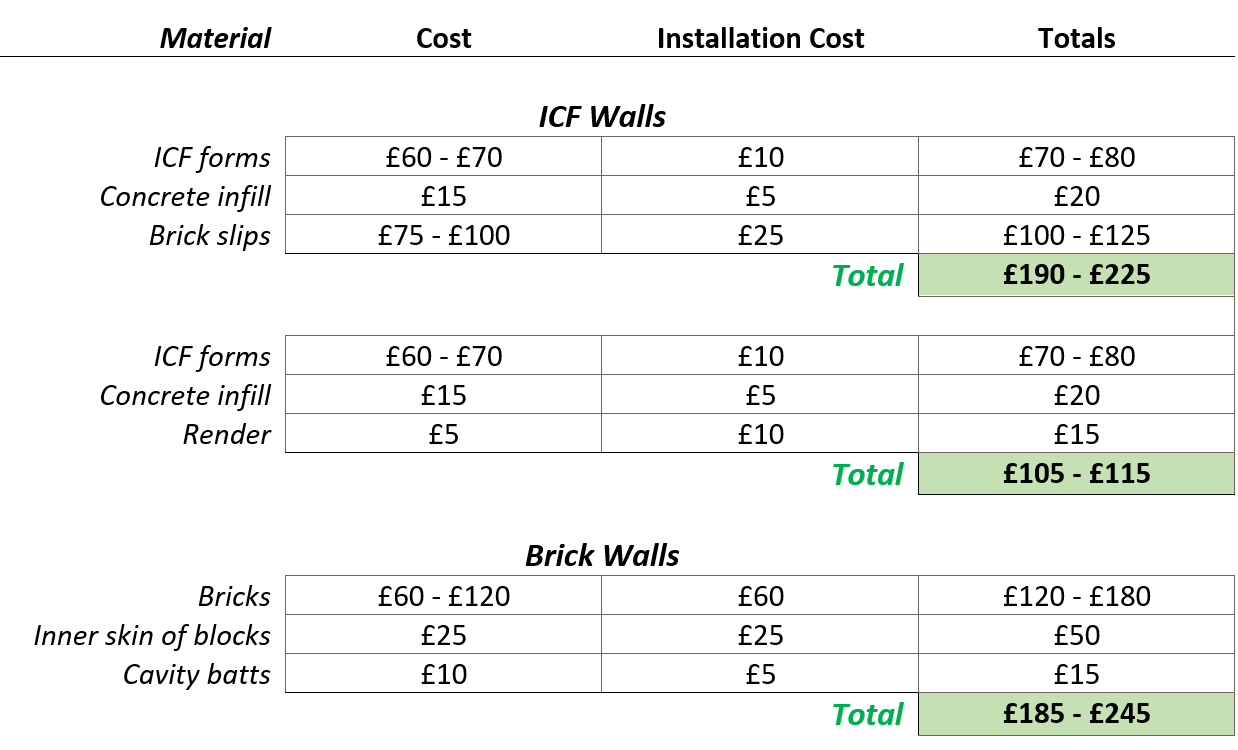 Find out more about the differences between ICF, Timber Frame and Cavity Walls.
ICF offers a substantial reduction in sound transmission and the inside of the home will be quiet in the noisiest of environments.
Every year, ICF is increasingly installed in the UK, however it is difficult to obtain firm figures for the number of homes built each year. It is thought to be somewhere around 2,000 and growing steadily. There is no doubt that most projects fall into the luxury home market.
The benefits of ICF construction are many – energy efficiency, strength, durability, comfort, soundproofing, cleaner air, fire retardant, bullet proof, and in many cases, insurance premium reductions.
Currently, the main disadvantage in the UK is the lack of Architects and Structural Engineers that have the necessary experience to provide working drawings.
ICF is easy to use if the Builder has all the necessary drawings and takes the time to plan the installation in detail. This ensures the ICF installation sequence is optimised and integrated with the scaffolding installation to maximise construction safety at the least cost.
The primary risk in ICF construction is movement of the forms or a "blowout" when the concrete is being poured. This can all be avoided by good planning.
Many builders decide to pour full storey heights in 2.4 m to 3.0 m lifts to minimise the number of times that a concrete pump needs to be brought to the site. But the bracing required to stabilise the ICF forms of this height and the time required to prepare for the pour will often cost more than an extra visit by the concrete pump.
There is very little risk if the first pour height is restricted to 1.2m. Higher lifts can be used in subsequent pours, when the empty ICF forms are stabilised by soldiers that are left fixed to the hard concrete wall beneath them.
Cracks in the walls of residential buildings are caused by foundation movement, drying shrinkage and temperature expansion and contraction. The only type of cracking that creates a risk of structural failure is that caused by foundation movement.
The ICF walls cure very slowly because of the polystyrene enclosures and as a result shrinkage cracking is minimised.
ICF walls form an extremely stiff and robust box when they are used to provide the walls of a house. Because of this subsidence, cracking in an ICF house is virtually unknown.
There is no simple yes or no answer to this question. In most two storey dwellings, reinforcement will not be required. However, many extensions and dwellings with large open floor areas will need the ICF to be reinforced.
In many circumstances a few bars are all that is required to make the ICF structurally safe. But as soon as the Engineer provides a design to comply with the BS EN 1992-1-1:2004 + A1:2014, many more bars are required to comply with the minimum reinforcement areas required by this code to comply with the Building Regulations.
One thing is for sure, it is essential that you get advice from a Chartered Civil or Structural engineer that has plenty of experience in the use of ICF and will be able to reduce the amount of reinforcement required.
ICF buildings are expected to last for at least 80 years and will not deteriorate at the rate of a traditional build. This durability ensures that ICF buildings maintain their quality and character throughout the duration of their lifespan, giving the owner great security and reassurance.
Plumbing is really easy in an ICF wall, because vertical and horizontal chases can be cut in the inner leaf of the house wall and the pipework can be installed in these, fixed in place with foam and subsequently covered by the wall finishes.
Service ducts can easily be cast in the walls using 100mm PVC drainage pipes.
In the same way that plumbing as installed as described above.
ICFs are able to offer superior insulation in both hot AND cold climates. ICF insulation keeps your home cool in the summer and warm in the winter. The proven energy savings and insulating performance effectively dispel this and other common ICF myths.
See Thermal Mass for more information.
ICF walls only need waterproofing if they are installed in basements below ground. There is a Code of Practice, BS8102, that deals with this.
The Code provides 3 design grades which defines the acceptable levels of water penetration depending on the usage.

Every basement must be designed by a Chartered Civil or Structural engineer that will advise you on the measures that might be required for waterproofing.
Fixings for light loads can be fixed with self-tapping screws into the ferrule strips. Heavy loads like boilers and joist hangers need to be fixed by hangers supported by the concrete core.
Yes, and plasterboard can be fixed by Dot and Dab or by self-tapping screws into the ferrule strips.
Factors essential to choosing the best ICF block product include the basic quality of the blocks, superior manufacturer support, availability, code compliance, easy installation, and energy-efficiency and most importantly – what is covered in the BBA certificate.
Yes, but you should only consider it if you have a substantial amount of basic construction experience and the manufacturer provides day to day support.
ICF homes virtually eliminate mould since they are constructed using the highly effective combination of non-organic materials, EPS and concrete.
No, ICF does not need to be covered as it allows the moisture that occurs in cavity walls to escape. Cavity (stud) walls are prone to moisture cycles and condensation because of the lack of thermal mass and the transmission of air through the walls.
ICF Walls are Vapor-Resistant and act as vapor retardants, and so ICF walls do not need vapor barriers. ICF's have insulation on the exterior and interior of the walls separated by a thermal mass of concrete. The insulation stabilizes the temperature and prevents condensation within the concrete walls.
ICF can be used in tall unsupported walls but must be designed by a Chartered Civil or Structural engineer.
Find out more about ICF Design.
The roof options for ICF homes are the same as for traditionally built houses – trussed or cut roofs are most common.
ICF houses do not need an air barrier as the concrete core itself serves as a very effective air barrier. The June 22 edition of the Building Regulations require every dwelling to be tested for air-tightness before a Compliance Certificate can be issued. This will cause many problems for traditional and timber frame construction but with ICF the only issue is that it may be necessary to add an air barrier around windows and door frames, sealing them to the ICF wall.
Find out more about energy efficiency in ICF.
ICF walls have been tested up to 2,000° Fahrenheit for up to four hours in fire conditions. Wood-framed walls mostly collapsed within 60 minutes, but the ICF walls did not experience any structural damage. Wood burns, however, concrete does not.
Currently there is a lot of debate about the fire safety of multi-storied blocks of flats built in timber frame.
Yes – ICF are particularly useful in acting as separating walls in semi-detached dwellings or as primary load bearing elements in place of steel posts or columns.
Find out more about using ICF to build your home.
Stone cladding, render, weather board, slip bricks, steel cladding etc.
See Polysteel Projects to see the scope of finishes that can be used with ICF built homes.
ICF structures are more resistant to disaster, fire, insect and moisture intrusion than wood-frame buildings. They also provide a more thermo-efficient, noise reducing, and healthy building than wood structures. Furthermore, it is virtually unknown for houses built in ICF to crack because of subsidence.
ICF is made of non-toxic materials, thereby creating a healthy interior environment. Without air infiltration, the occupants are not bothered by dust or allergens and there are no cavity walls for mould, mildew, insects or rodents to infest.
ICF foundations can be constructed most times of the year because it is not as sensitive to cold temperatures as poured concrete.
Still have questions?
If you haven't found the answers you were looking for, please get in touch and we will be happy to assist you.