Energy Efficient Buildings
Building with Polybloks
ICF blocks offer the best way of achieving highly energy efficient buildings by combining high insulation, air tightness and thermal bridging.
Want to reach Passivehaus standards? Our Polybloks and engineering expertise can help you achieve this.
ICF Insulation Advantages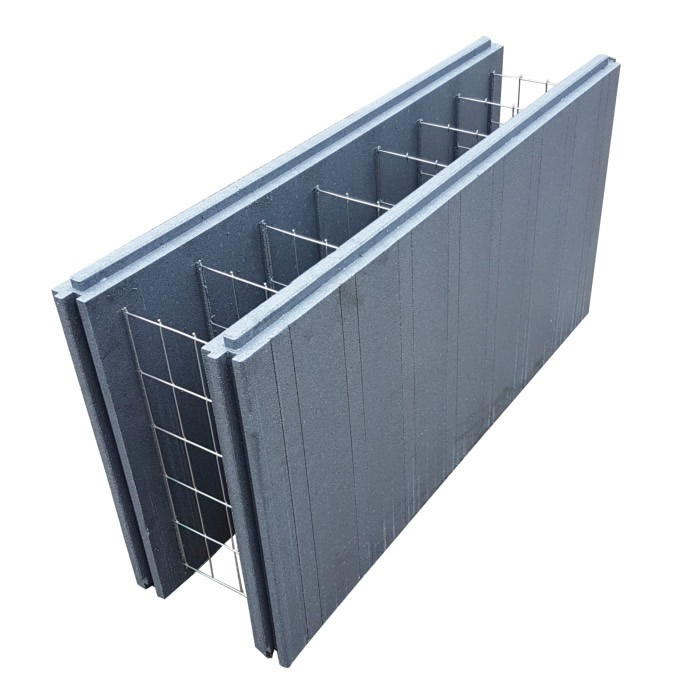 Polysteel units have a total EPS thickness of 130mm which provides a U value of 0.22 W/m2K for the wall (including concrete, plasterboard and render).
The limiting values for walls in new dwellings is 0.26 W/m2K. Most ICF forms comply with this limit to the minimum allowed insulation value.
Extra insulation required by law
The required U value of the walls in a 'notional dwelling' is 0.18 W/m2K, as specified in the June 1922 edition of the Building Regulations. SAP (Standard Assessment Procedure) for most dwellings will likely show that the walls require extra insulation if the building is to comply with Fabric Efficiency requirements.
is thicker eps the solution?
The U value of Polyblok280 and Polyblok330 is 0.23 W/m2K. This is provided by two leaves of 65mm thickness of Neopor Insulation. Their thickness could be increased to provide additional insulation, however new moulds will be required which would consequently increase the cost of the blocks. Furthermore, additional increases may be imposed in the future and so thicker EPS panels is not the most economic approach at the moment.
What is the best way to provide lower u values?
Currently, the easiest and most economic way of providing U-values below 0.18 is to use 50mm thick Neopor External Wall Insulation (EWI) boards.
These can be supplied by Polysteel and are simply fixed to the external leaf of the Polyblok with screws and adhesive in accordance with the Polysteel installation drawings. This provides the following U values shown in the table below. The significant decrease in U-value of .015 will allow reductions elsewhere in the dwelling under the SAP analysis.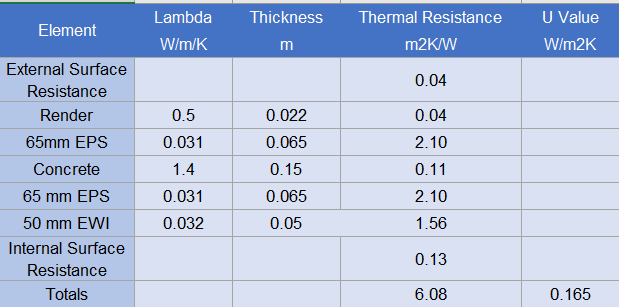 Changes to the rules…
The June 2022 Building Regulations contain stringent new rules on Air Leakage. The notional dwelling permeability is set at 5m3 / hour / m2 at 50Pa.
Every new building will need to be tested after construction and then approved. Just imagine the hassle when a building fails.
ICF provides the best solution to building highly energy efficient homes which comply to these new standards.
Triple Air Barrier
An air barrier must be continuous to be effective and ICF provides this continuity. Indeed, ICF provides a triple air barrier: the concrete is continuous, has no joints and the two layers of rigid insulation also meet the requirements of an air barrier with the interlocking joints providing continuity.
Concrete as an air barrier
The air barrier needs to resist positive and negative pressures induced by wind, fan and internal / external pressure differentials.  Flexible membranes must be supported on both sides or made of self-supporting materials such as board products fastened securely to the structure. Any tape or sealants must also resist these pressures and last the life of the building – something that is virtually impossible to achieve with any product that comes out of a tin or a tube.
Thermal bridges (or cold bridges) are weak points in the building which allow heat to escape. Stopping this is essential to increasing a building's energy efficiency.
Thermal bridges in ICF walls can easily be eliminated if window and door openings are framed with timber, placed within the cavity between EPS leaves. This is not the case in cavity walls where there are 2.5 ties/m2.
The June 2022 Building Regulations require drawings to be provided for all junctions and complex details avoided where possible. Photographs will need to be taken to confirm that the design details have been constructed.
Polysteel can provide the Linear Thermal Transmittance figures required for the SAP calculations for the wall corners and wall floor junctions.